Financial Aid Advisor

Schedule
---
East Mesa Campus
Monday | Wednesday | Friday 
8:00am - 1:00pm 
Tuesday | Thursday 
2:00pm - 5:00pm
---
 Espina Campus
Monday | Wednesday | Friday 
1:00pm - 5:00pm
Tuesday | Thursday 
8:00am - 12:00pm
---
Gadsden Center
Monday | Wednesday 
1:00pm - 5:00pm
---
Sunland Park
Thursday 
8:00am - 12:00pm; 1:00pm - 5:00pm
---
Check out our virtual appointment page for instructions on how to set up an online appointment with your Financial Aid Advisor. Please note, your financial aid advisor is based on the last 2 digits of your NMSU Aggie ID.
Schedule a virtual appointment 
---
For questions, contact the DACC Information Center at (575) 528-7000 or the DACC Office of Financial Aid & Scholarships at finaid@dacc.nmsu.edu.
2023-2024
Scholar Dollar$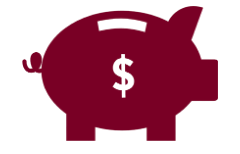 ---
Local Scholarship Opportunities
Space Grant Consortium 2023 Scholarship and Fellowship application is now open through April 10, 2023. Click the image for

information.
Doña Ana Community College Office of Financial Aid & Scholarships 
Doña Ana Community College Office of Financial Aid & Scholarships strives to provide financial resources for students pursuing higher education by assisting with the elimination of financial barriers. We are committed to promoting affordable and accessible education to a diverse student population.
Our Goals
Provide quality customer service and accurate information.

Process aid efficiently and in an accurate and timely manner.

Provide precise and clear consumer information regarding financial aid.

Maximize sources of governmental, institutional, and private funding for students.

Work cooperatively and communicate effectively with other NMSU/DACC offices and the community in meeting the goals of the institution.
Financial aid is money that is given, earned, or lent to help students pay for their education.  Federal government programs provide approximately 70% of the financial aid granted nationwide.  Though the term "financial aid" is frequently used to describe any funds a student obtains to attend college, it's important to recognize different types of financial aid. Keeping it as simple as possible and ignoring the few exceptions, there are four major categories of financial aid:
Grants

Loans

Workstudy

Scholarships