---
What are Scholarships?
Scholarships are essentially grants that do not require repayment. Numerous scholarships are available from various sources such as schools, employers, individuals, private companies, non-profits, communities, religious groups, as well as professional and social organizations.
These scholarships can be merit-based, meaning they are earned by meeting or surpassing specific criteria set by the donor. Merit scholarships are typically granted based on a combination of academic achievements, special talents, qualities, or interests. Alternatively, some scholarships are need-based, taking into account the financial requirements of the applicant.
Scholarships can vary widely in their coverage, ranging from full tuition and fees to one-time, one-semester awards amounting to a few hundred dollars.
---
Types of Scholarships
---
The New Mexico Higher Education Department is dedicated to helping students pursue their educational goals by educating students, parents, and the community about state aid opportunities. Several state Grants and Scholarships are available to New Mexico residents to help pay for college. There are conditions for eligibility such as established need, a minimum GPA, or required number of completed credit hours per semester. 
---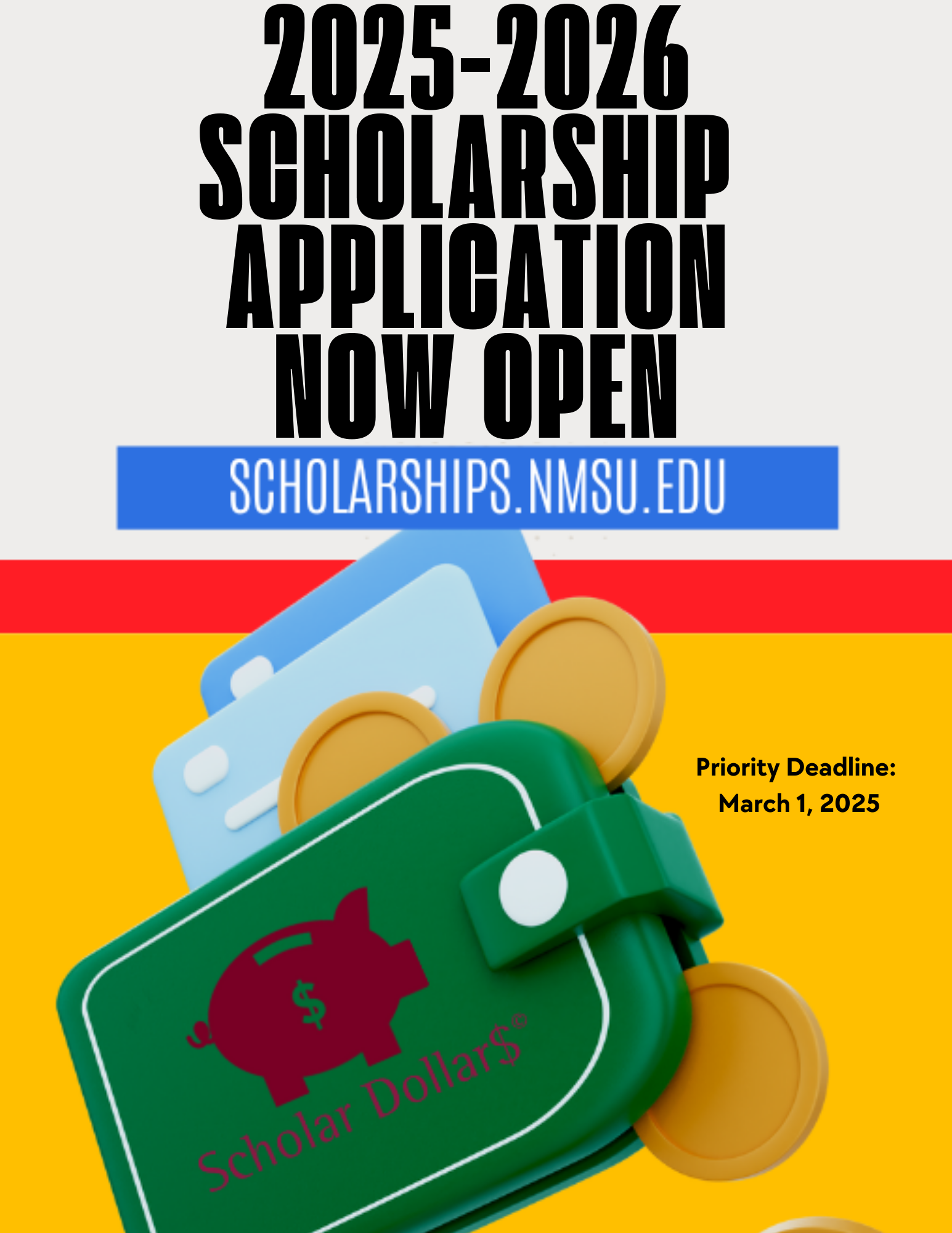 Institutional Scholarships
Doña Ana Community College Office of Financial Aid & Scholarship Services offers a wide array of scholarships to assist a diverse student population pursuing higher education. As an open-door institution, our office is committed to providing equal educational opportunities to students regardless of personal, economic, or social conditions. As most of the scholarships require you to demonstrate financial need you are encouraged to complete the Free Application for Federal Student Aid (FAFSA). 
All Doña Ana Community College institutional scholarships will be awarded based on the completion of the Scholar Dollar$ application annually. If you're ready for the next step, then begin applying for additional scholarships using the Scholar Dollar$ online application. **please note, the priority deadline is March 1st, annually.**
---
Donor-Designated (Outside/Community) Scholarships
Donor-designated scholarships refer to a specific type of scholarship where the donor, which can be an individual, organization, corporation, or foundation, establishes criteria or preferences for the recipients of the scholarship funds. Unlike general scholarships, where the eligibility criteria are determined by the institution or organization providing the scholarship, donor-designated scholarships allow the donor to specify certain requirements that applicants must meet to be eligible for the scholarship.
These requirements can include factors such as academic achievement, field of study, financial need, extracurricular activities, community involvement, or specific personal characteristics.