Getting Started 
Before Starting the FAFSA you will need to create an FSA ID
An FSA ID gives you access to Federal Student Aid's online systems and can serve as your legal signature. Create an FSA ID using your own personal information and for your own exclusive use.
---
FAFSA 
You've probably heard of the FAFSA, the Free Application for Federal Student Aid, but do you know what it is and how important it can be for you and your family? Filling out the FAFSA is one of the first steps in the financial aid process, as it determines the amount that you or your family will be contributing to your post-secondary education. The results of the FAFSA determine a student's grants, work-study, and loan eligibility. We recommend that everyone completes the FAFSA.
*FAFSA SCHOOL CODE (Doña Ana Community College):
E00876
FAFSA Workshops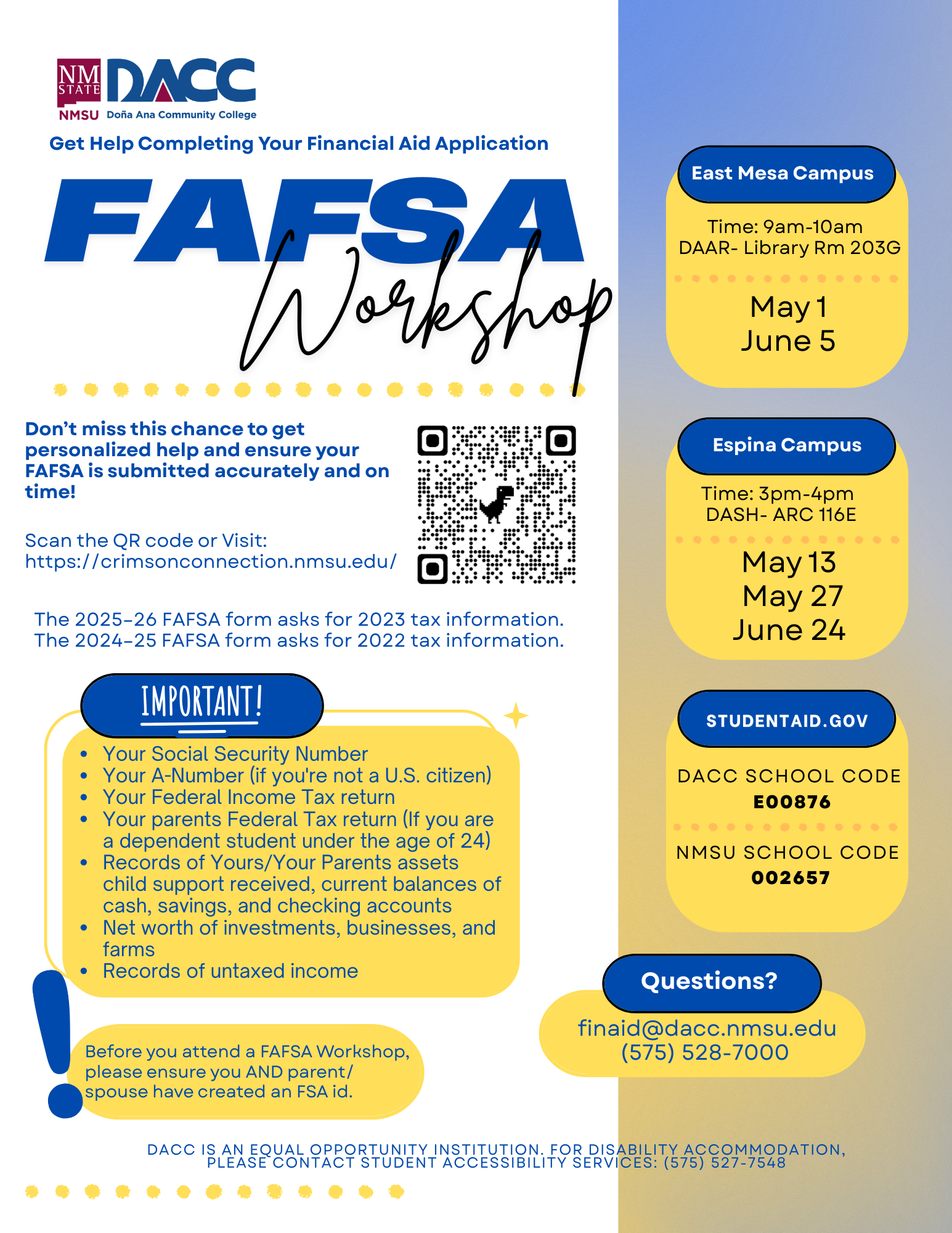 The DACC Financial Aid Office hosts free workshops to help students and families complete FAFSA applications. The best time to complete your FAFSA application is between October 1st and March 1st. If you would like help completing the application, or you just have questions, join us for one of our workshops. Bring your information (see below) and we will help you complete and submit your FAFSA application. 
What do I need to complete the FAFSA application?
Parents and students must create an FSA ID. The FAFSA application must also be signed  electronically.
Student and/or parent 2021 and 2022 Federal Tax Returns/Transcripts
2021 and 2022 W-2 forms or Wage and Income Transcripts 
2021 and 2022 Untaxed Income tax records
If married, your spouse's 2021 and 2022 Federal Tax Return
Social Security card – It is important that you enter your Social Security Number correctly!
Your alien registration or permanent resident card (if you are not a U.S. citizen)
Foreign Tax Return, or Tax Return for Puerto Rico, Guam, American Samoa, the U.S. Virgin Islands, the Marshall Islands, the Federal States of Micronesia, or Palau
Students with disabilities may contact our office for individual assistance.
---
 Visit Crimson Connection to view all upcoming Financial Aid and FAFSA Workshops.