Staff of Institutional Analysis
---
Institutional Researcher

Xiaojing joined DACC's Institutional Analysis as an institutional researcher in March 2015. Her current duties focus on analyzing survey data, addressing specific research questions and data requests on student's enrollment, retention and graduation from within and outside the institution. She received a M.S in Accounting from NMSU in 2012 and M.S in Applied Statistics from NMSU in 2014. In her spare time, she enjoys swimming, hiking, and spending time with family and friends.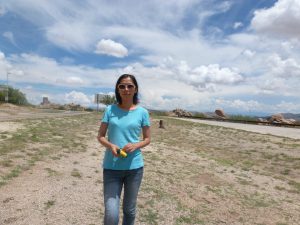 Institutional Researcher

Alex became part of Doña Ana Community College in May 2019 as a Data Analyst for the Institutional Analysis Department. He is charge of Adult Education data analysis for DACC South County Centers. He received a M.A in Economics from NMSU in 2012 and a bachelor's degree in Business Administration from NMSU in 2010. He is also working on a Doctorate in Economic Development with a focus on community development around local food systems and is set to finish in 2023. When free time comes around, Alex enjoys growing organic food, playing sports, and rock hunting.